BHL: « La Bataille de Mossoul »
Bernard-Henri Lévy, French philosopher, activist, and filmmaker, will take you to the front lines of one of the most brutal wars of our time in his newest documentary, The Battle of Mosul. A screening of the film will be followed by a talk and Q&A, with Bernard-Henri Lévy, who will take this occasion to provide us with his unique analysis of our current news (French elections, Brexit, Trump).
19.15: Doors open for general admission
20.00 – 21.00: Screening of his newest documentary The Battle of Mosul (in French with English subtitles)
21.00 – 22.00: Discussion about the current issues by Bernard-Henri Lévy + Q&A (in English)
For the benefit of SSF (Sauveteurs Sans Frontières / Rescuers without Borders) who provides assistance to refugees in war zones including in Iraq.
LIMITED SEATING
Book Now: http://hexagonsociety.com/BHL-Battle-Mosul
10£ Students
20£ Regular seat
35£ Premium seat
160£ Donor Package (10 seats for the price of 8)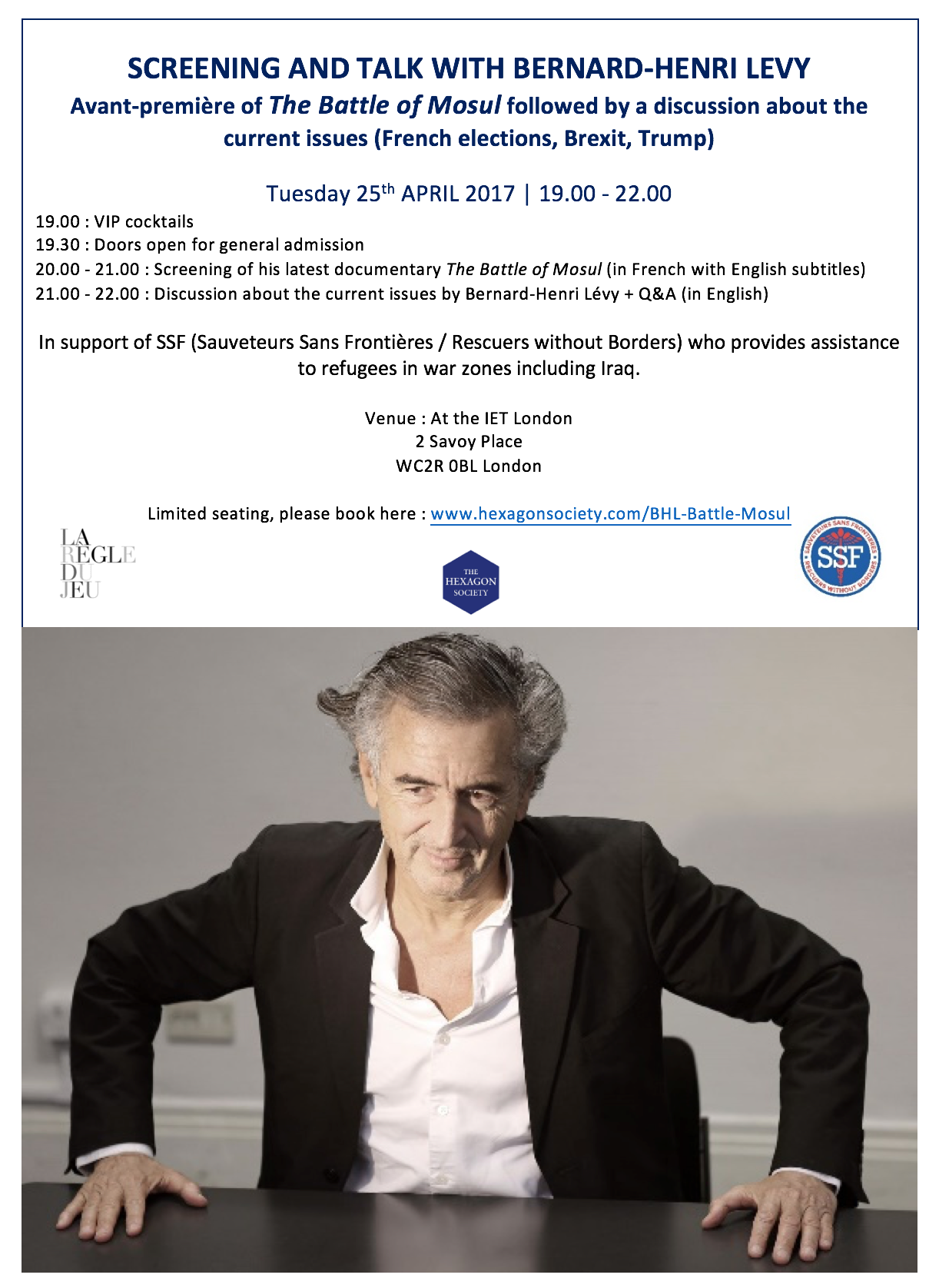 We invite you to enjoy a 6 month complimentary Gold Tier membership to Little Emperors, a private members¹ travel and dining club, granting you access to preferred rates and benefits at luxury hotels, and last minute tables in top restaurants.
1)            Download the App/go on the website
APP STORE: MyLE. by Little Emperor's & Co. https://appsto.re/gb/GCyn
WEBSITE: www.littleemperors.com
2)            Select Gold Membership
3)            Join Now
4)            Enter discount code: HEXAGON
5)            Complete registration
*Terms and conditions apply.